English
Our Vision
The English Department aims to equip our students with the independence and knowledge they need to be creative and adaptive in our subject.
Aims
At Astor College, our aim is for our curious, independent and adventurous learners to develop their skills which are then transferrable to other areas of the school's curriculum.
We do this by:
Implementing the school vision of being adaptable, creative and proud.
Setting challenging and high expectations for all pupils.
Offering a variety of approaches to teaching and learning to engage and motivate pupils and demand their active participation.
Smoothing the transition for pupils between Key Stages and ensure progression in learning throughout their time at Astor College.
Ensuring all pupils, regardless of ability, make expected progress between key stages.
Exploring enrichment opportunities outside the curriculum to enhance pupils' enjoyment of English.

Curriculum

Students receive a varied curriculum which contains the core skills needed for success in this and other subjects.

Throughout their school career, students study areas of English including poetry, 19th century literature, modern literature, Shakespeare, creative writing and transactional writing which will equip them for other areas of the curriculum.

The English specification is a very challenging one. It is focused heavily on developing a deep understanding of texts as well as the skills and independence necessary for pupils to develop their work in creative ways. This is extremely rewarding when successful.

There are no short cuts to learning English Language and Literature - practise and revision are key to gaining the best grades by Year 11.
Curriculum - Scheme of Work Overview
Below is an overview of our current SOW for KS3 and 4. This identifies the texts studied and how students are assessed. There is also a link to the epistemic links our subject has with History and Drama - the cross-curricular links help students put what they are learning in to context and understand how the knowledge and skills are linked to the wider world.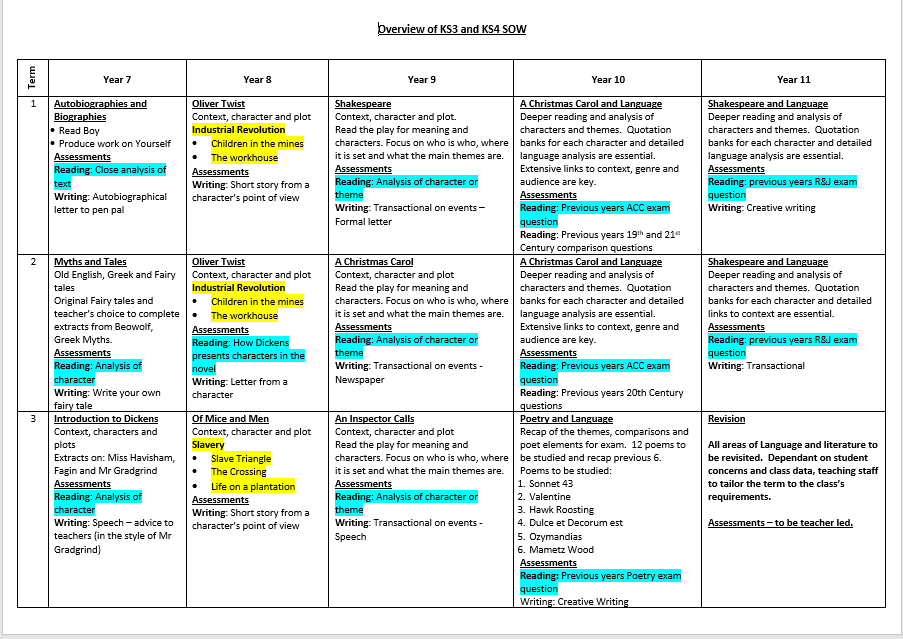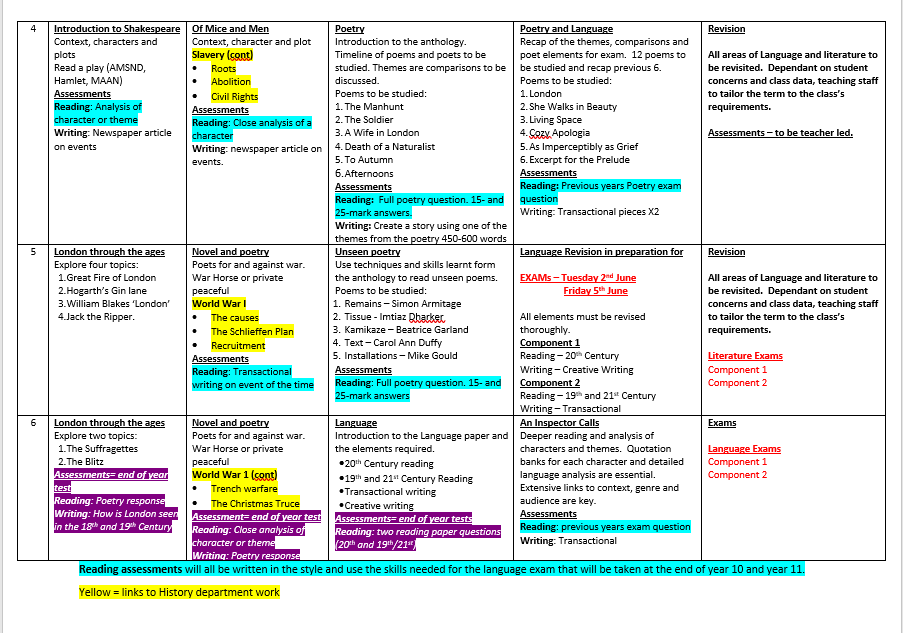 Link to highlight and explain epistemic links with History and Drama: Epistemic-Links.docx
For any enquiries please contact Miss Rachael Chapman, Director of English.
KS3
At Astor College, KS3 English is for Years 7 and 8.
Both Year 7 and Year 8 students are taught in their form classes. We currently have a Grammar Stream in each year group.
Our students participate in 8 English classes per fortnight.
The expectation is that all Year 7 and 8 students aim to Master reading and writing skills and an understanding of a variety of genres to set them in a good place for studying their GCSE content in years 9-11.
Please find below the content covered for each group over the year.
Year 7 SOW Skills Overview:
Year 8 SOW Skills Overview:
Year 9
The year 9 scheme of work is designed to prepare students for the GCSE course in English. This introduces them to the texts, allowing them enough time to explore and understand the content and develops the skills required for both Language and Literature.
Link to the year 9 SOW Skills overview - Year-9-SOW.docx
KS4
English at GCSE is split into two components: English Language and English Literature. Both courses allow students to read and study a wide range of texts which require them to read critically and evaluatively. This also enables them to write accurately, effectively and analytically; acquiring and understanding a wide vocabulary, grammatical terminology and other literary and linguistic terms.
English Language focuses on reading comprehension skills across 20th century prose and 19th and 21st century non-fiction texts; writing skills in creative writing and transactional styles; listening and communicating in spoken Standard English.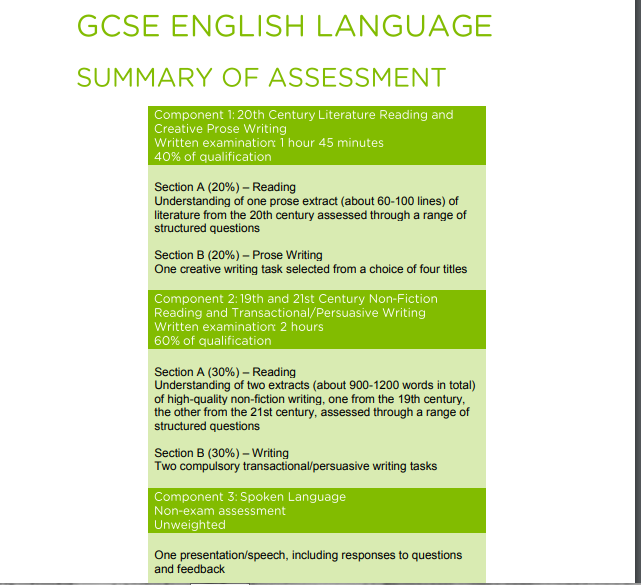 English Literature allows the students to read, enjoy, understand and analyse a variety of texts. The currents texts studied include: A Christmas Carol by Charles Dickens, An Inspector Calls by JB Priestley, Romeo and Juliet by William Shakespeare and a collection of poetry from 1789 to the present day. All students are encouraged to purchase their own copy of the texts so that they can make detailed annotations on their own texts for revision.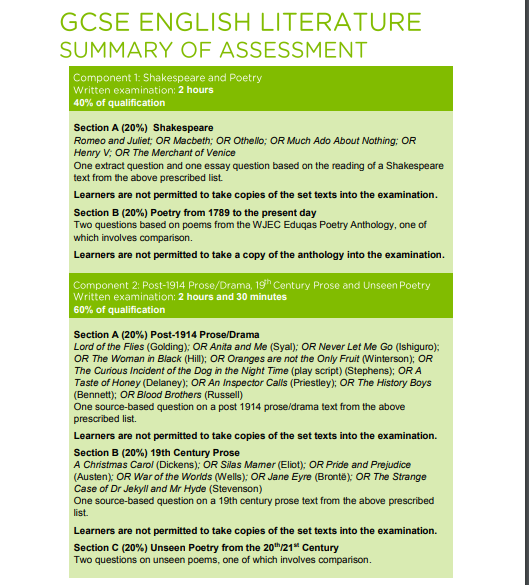 Both courses consist of two written examination papers taken in May/June of Year 11. Neither are tiered and all students are encouraged to work towards a grade 9.
Exam dates for 2020:
Literature:
Component 1: 13th May 2020
Component 2: 21st May 2020
Language:
Component 1: 2nd June 2020
Component 2: 5th June 2020
GCSE Revision Resources
Please note Summer 2020 exam dates are as follows:
Literature:
Component 1: 13th May 2020
Component 2: 21st May 2020
Language:
Component 1: 2nd June 2020
Component 2: 5th June 2020
Link to the English Language Specification:
http://www.eduqas.co.uk/qualifications/english-language/gcse/wjec-eduqas-gcse-english-lang-spec.pdf
Link to the English Literature Specification:
http://www.eduqas.co.uk/qualifications/english-literature/gcse/eduqas-gcse-english-literature-spec-from-2015.pdf
Link to English Language past papers:
http://www.eduqas.co.uk/qualifications/qualification-resources.html?subject=English&level=GCSE&pastpaper=true
Link to English Literature past papers:
http://www.eduqas.co.uk/qualifications/qualification-resources.html?subject=EnglishLiterature&level=GCSE&pastpaper=true
Link to GCSEpod with revision pods for Language and Literature:
https://members.gcsepod.com/login
Revision Planner - Countdown to December Mocks: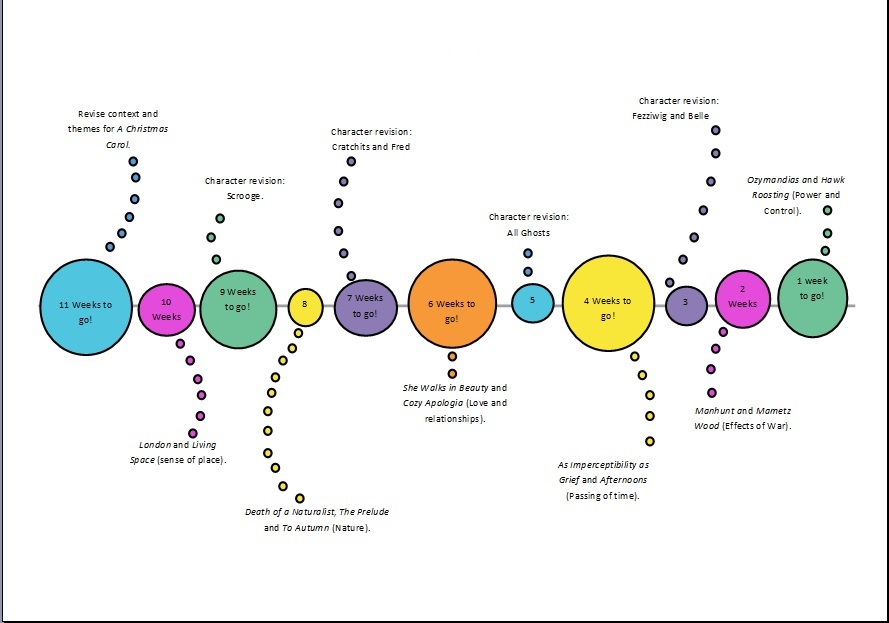 Department Trips, Projects and Events
Astor College English department is trying to arrange as many opportunities as we can for our students to celebrate Literature events and experience the subject outside of the classroom.
2019-20 Term 1:
Roald Dahl Day
Year 7 have the opportubity to celebrate the work of Roald Dahl this term by exploring his autobiography 'BOY' and understadning the skills and format of biographical and autobiographical writing.
The whole of KS3 will also celebrate the day within their English lessons by participating in different writing and creative exercises inspired by some of his most famous works.
National Poetry Day:
Both KS3 and KS4 will spend the day celebrating a variety of poetry within their English lessons. This will offert the opportunity for them to learn about new poets, explore their inspirations, analyse poetry and even write examples of their own.
Launch of our new library at Astor:
The department is proud to have a newly refurbished library arrive along the English corridor over the summer holidays. This offers an exciting and comfortable area for students in all years to enjoy reading. There are a variety of books for the students to read and are being encourgaed to explore many different genres and authors alongside programmes such as the 'Accelerated Reader Programme' and 'Buster's Book Club'.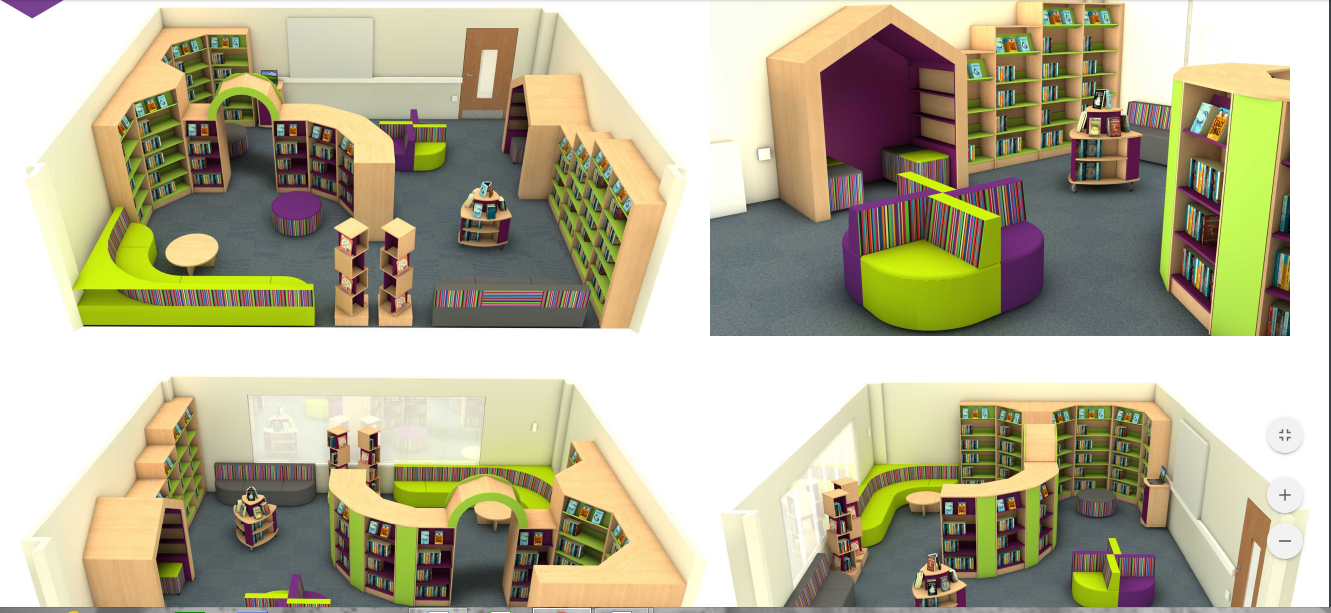 2019-20 Term 2:
GCSE in Action Workshops
45 year 11 students will visit The Emmauel Centre in London on the 6th Decemebr to participate in the 'GCSE in Action' Course. They will participate in a variety of workshops including: 'Tackling Unseen Poetry', 'Write like a genius!' and 'Non-Fiction texts over time'. They will also get the opportunity to meet and question the poet John Agard. Please see the Parent Mail link for further infiormation on booking this.
Touring Drama Company of 'A Christmas Carol'