Geography
Welcome to the Geography Department.
Here we aim to develop enquiring minds in the students and from the evolution of Life on Earth, to life in our very own Dover, we cover areas and time scales of enormous variation. We are constantly monitoring Geography in the news and a current up to date curriculum is very important to us. Along the way students will develop a huge range of skills in areas such as mapping, data collection, analysis and statistics. acquire a range of skills such as map reading, collecting and analysing data.
Geography has a very high employability associated with it as a subject, due to the encouragement of critical thinking and the development of a range of skills. Graduates of Geegraphy can go on to be engineers, surveyors, meteorologists, city planners, journalists, landscape architects and many more of course!
Staff:
Mark Webster (Director of Department)
Joe Wilkinson
Ella Waterfield
Henry Coates
KS3
At Astor Secondary School, KS3 Geography is delivered through years 7 to 9. Although some GCSE topics are investgated in Year 9, it is ensured that they are in line with the KS3 National Curriculum at all times.
This subject is about helping students undestand how they as humans fit in to the physical world around them. For this reason we feel it is important for students to connect with their local place and so Year 7 focusses on this with an impetus on their local area and the UK as a whole. As they progress to year 8 they will broaden their investigation in to the wider world and look at topics ranging from golbal inequality to globalisation and a focus on Africa.
Below is the Scheme of work for KS3:
KS4
At Key Stage 4 the AQA GCSE Specification 8035 is followed (see below). This has three different areas of study which allow a natural progression from Key Stage 3:
The Physical Environment
The Human Environment
Geographical Applications
Students are taught in mixed ability groups for six hours over two weeks.
Students will travel the world from their classroom, exploring case studies in the United Kingdom (UK), higher income countries (HICs), newly emerging economies (NEEs) and lower income countries (LICs).
Topics of study include climate change, poverty, deprivation, global shifts in economic power and the challenge of sustainable resource use. Students are also encouraged to understand their role in society, by considering different viewpoints, values and attitudes.
Please see below for links to schemes of work:
KS5
At KS5 the Geography department teaches to the new AQA examining board specification; students are taught for nine hours over two weeks. They sit the AS exam at the end of Year 12 and then the full A level at the end of Year 13. Students go on a three day Residential Fieldwork trip which helps them complete their Independent Fieldwork Investigation.
The new specification aims to excite the students' minds, challenge perceptions and stimulate their investigative and analytical skills.
Whilst new units have been added to reflect constantly updating theories, cutting edge technologies and modern geopolitics, you'll see it's retained much of the topics that students enjoy, including hazards and population.
The assessment structure for the full A level is shown below: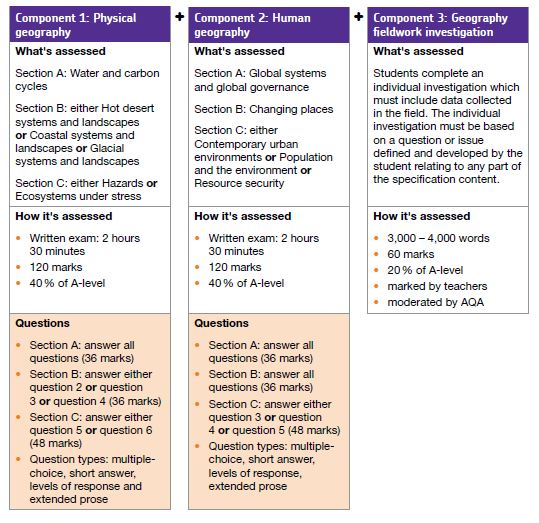 Homework
Geography homework is set on Kerboodle (link below) for all year groups . Students will need access to a laptop, desktop or tablet to complete the work. The website is accessible by smartphone but is not optimised for the platform so some difficulties might arise.
https://www.kerboodle.com/app
To log in for the first time students should use the following format if their name were Joe Bloggs:
username: jbloggs
password: jbloggs
institution code: vkj5
They will be asked change their password at the next stage. It is possible for the teacher to reset their password to this format on request.
Any questions please email: admin@astorschool.com